Our Team
Michaela Allen-Sanchez
(she/they)
Graduate Intern
allenm89@msu.edu
Michaela (she/they) is a second year in the Student Affairs Administration Master's Program at MSU. She completed her bachelor's degree at the University of California, Santa Barbara, where she majored in Communication and Sociology. They are originally from San Diego, California (Kumeyaay land) and moved to East Lansing (Anishinaabeg land) to pursue graduate school. Michaela works as the Graduate Assistant for MSU Tours, where they supervise a team of 12 student supervisors and 100+ tour guides. As an undergrad, Michaela was an active member of the American Indian and Indigenous Student Association at UCSB and now serves on the e-board for MSU's Indigenous Graduate Student Collective. Michaela is also the social media chair for ACPA's Indigenous Student Affairs Network. As a multiracial Lipan Apache & Mexican individual, Michaela is passionate about increasing educational accessibility for all historically marginalized students, but especially LGBTQ+ and Indigenous students. Michaela hopes to empower these groups through her various roles at MSU and after graduation. When they are not working or in classes, Michaela enjoys reading, doing beadwork, playing roller derby, and hanging out with her cat, Pickles. 
Morgan Doherty
(they/them/theirs)
Coordinator
dohert19@msu.edu
Schedule an appointment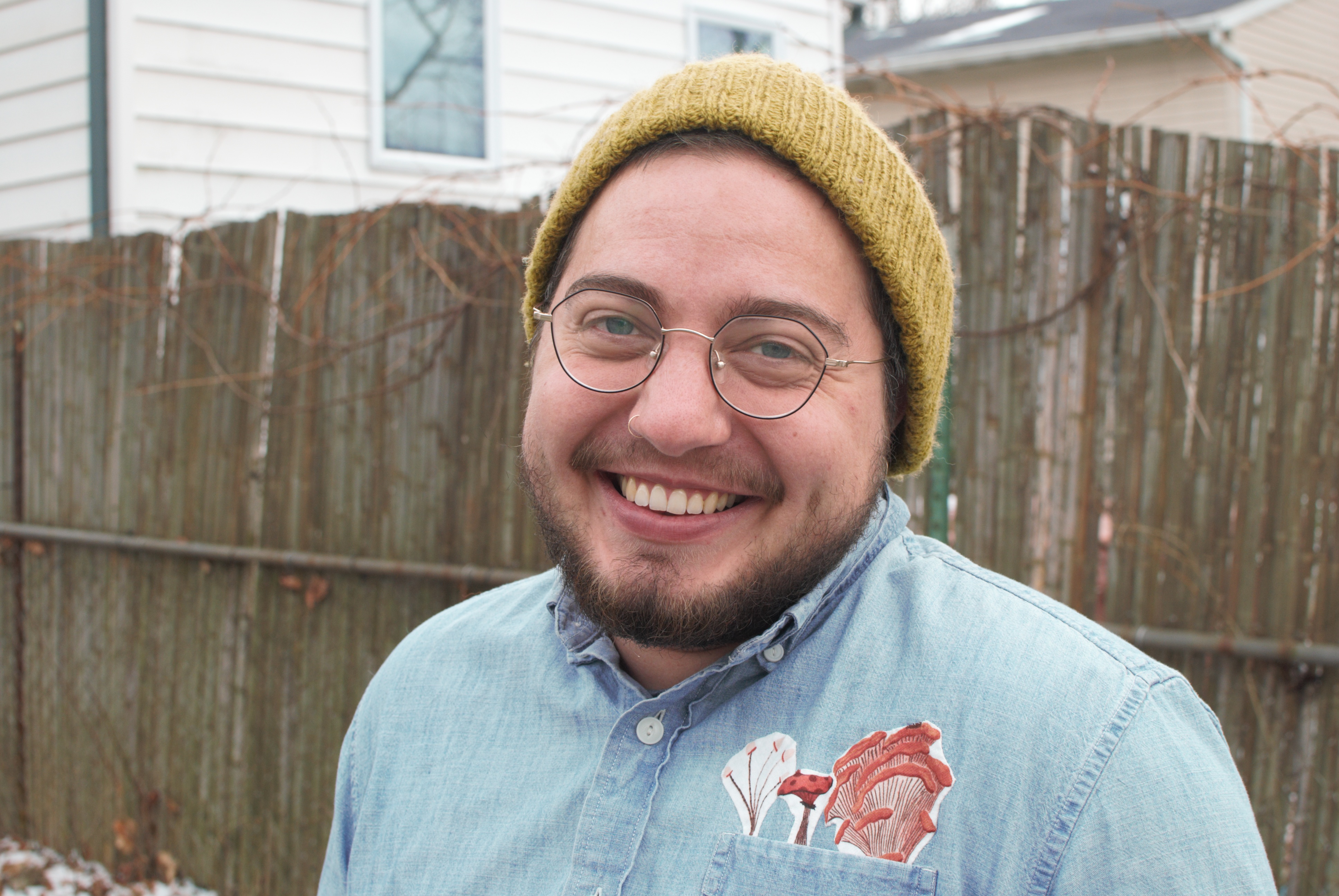 Morgan is the coordinator for the Gender and Sexuality Campus Center. They're a Lansing local; an MSU alum and a current student in the Community Sustainability Masters program; the former facilitator of the TRUE LGBTQ+ Teen Support Group at the Salus Center; and a reformed librarian who would still love to recommend some gay books for you. Morgan is a founding member of Tender Heart Gardens, a queer and trans gardening collective in Lansing. They love being outside, reading things, growing things, eating things, and spending time with their chosen family. Make an appointment to talk with Morgan about
Student organizations
Graduate school
Navigating campus/the world while trans
GSCC operations
The GSCC newsletter and social media
Anti-racist identity development for white students
Kay Green
they/them/theirs
Outreach Assistant
greenk25@msu.edu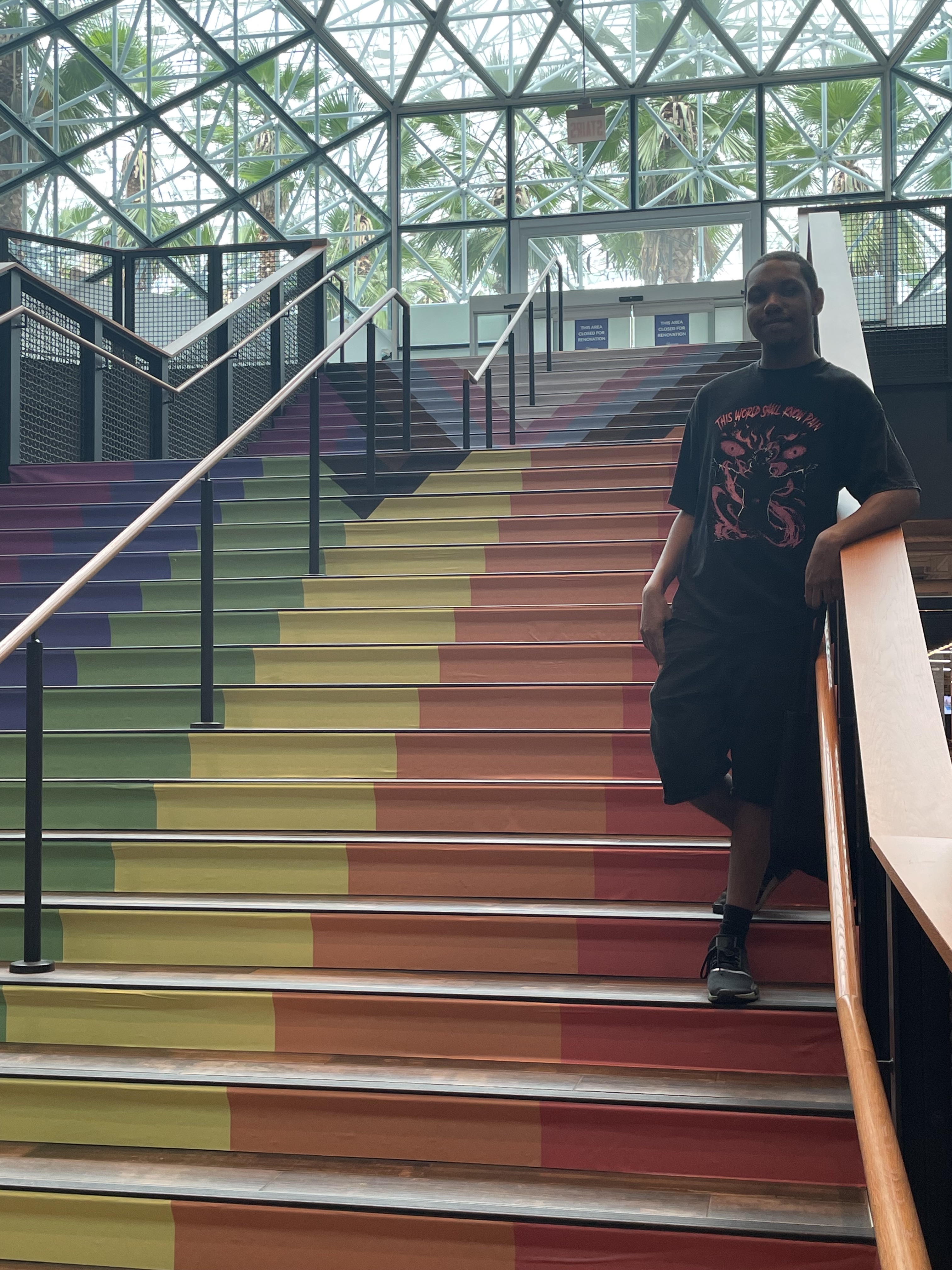 Kay is a second-year undergraduate student with a pre-nursing major and working towards becoming an E.R nurse. This year they are working as the outreach assistant at the GSCC to promote our message of inclusion on campus as well as fun for queer students. While working as our outreach assistant they hope to plan more fun activities for queer students as well go around campus and making sure that LGBTQIA+ students of color feel welcomed at the center as well. They are very interested in directly helping anyone they can and leaving a positive impact on others' lives!
Oprah Jrenal
she/her/hers or just Oprah
Assistant Director
oprah@msu.edu
Schedule an appointment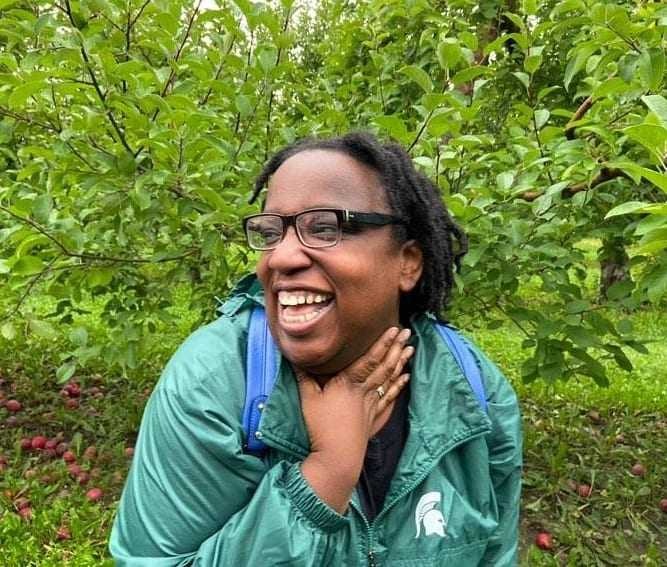 Oprah Jrenal is the Assistant Director for the Gender and Sexuality Campus Center. In this role, she advises student groups and GSCC staff in their efforts to create supportive environments in which LGBTQ students can thrive. Oprah has served in residential life at institutions across the country. She has experience presenting on topics such as intersectionality, being a person of color (global majority) in predominately White spaces, White supremacy, supporting undocumented students, and community building, to name a few. Oprah is ecstatic to be joining the Spartan family. She earned her bachelors in Creative Writing with an emphasis in poetry from the University of Arizona and a masters in higher education from the University of Kansas. Oprah is pleased to share her light and love with MSU. Oprah has been with the GSCC since January 2018.
Email Oprah with Questions about:
Joining LGBTQ student organizations
How to Tell Someone they said/did something Racist (homophobic, transphobic, etc.)
Advocacy and Support Needs
Event/Program Ideas
Leadership and Supervision of GSCC Staff
Navigating Microaggressions
Valentine McWilliams
she/her/hers
Communications Assistant
mcwill58@msu.edu
Valentine McWilliams is a third-year undergraduate student with her major in English and her concentration in Creative Writing, and is working as an assistant in the Gender and Sexuality Campus Center. Since she arrived on campus, Valentine has been engaged in activism to improve the lives of transgender people at MSU. She is an executive board member of TransAction and the transcend caucus, as well as being a member of the board of The Alliance of Queer and Ally Students. In addition to these roles, Valentine is also a Resident Assistant in North Neighborhood, and aims to use her position to help first-year queer and trans students feel welcome on campus. In her writing, Valentine aims to tell stories which cause audiences to think about death, memory, and queer identity, and the stories that lie at the intersections of those three things. She is passionate about death positivity and activism, and wants to help audiences reframe their grief and recognize the ways death is treated in American culture. Aside from her interest in activism, Valentine also enjoys doing makeup, playing her bass guitar, playing video games like 
Stardew Valley,
WarioWare
, and 
Hades,
 and listening to audio fiction- her favorite shows are 
Me and AU, Brimstone Valley Mall,
and 
ars PARADOXICA
.
Mo Miller
she/they
MSW Student Intern
mill3488@msu.edu 
Mo is a second year student in the Statewide Blended Master of Social Work Program at Michigan State University. She completed her Bachelor of Arts Degree in Sociology at Spring Arbor University. They currently live in Jackson where they work as a Librarian Assistant for the Jackson District Library. During their time as an undergraduate student, Mo co-led a group of students in advocating for equitable rights and policy change for LGBTQIA2S+ students. Her passion lies in queer advocacy and empowerment work through policy change and clinical support. Their long term goal is to become a mental health therapist specializing in religious trauma treatment and LGBTQIA2S+ inclusive therapy. Outside of their roles as student, staff, and intern, Mo enjoys reading, tending to her plants, yoga, working on their tarot and meditative practices, and spending time with their partner, Jo, and their pets.
Isa Olivo
she/they
Racial Justice Education Assistant
olivoisa@msu.edu
Isa is a second-year undergraduate student majoring in Comparative Cultures and Politics at James Madison College with a minor in Spanish, and she is working as the Racial Justice Educator at the Gender and Sexuality Campus Center. She is also an Honors College member. Inside and outside of academics, they are passionate about intersectional diversity, equity, and inclusion, and hope to be a full time DEI educator for their career. Supporting this goal, she is an Intercultural Aide (ICA) and a member of TransAction. Their other interests include traveling, fashion, art, tattoos, and playing with her beautiful dog Maggie!
Sakshi Venkat Rao
(she/they)
Sex Education Assistant 
Sakshi is a fourth-year student at Michigan State University, majoring in Human biology with a minor in Women's and Gender Studies. This year she is working as an Undergraduate Sex Educator for Gender and Sexuality Campus Center where she hopes to provide accessible gender and sexuality inclusive sex education for everyone and is an Undergraduate Research Assistant in Human Development and Family Studies under Professor Megan Maas. Sakshi loves spending the majority of her time laying on grass under the sun since she is a taurus and cooking dinner with their friends :) 
Heather Shea
she/her/hers
Interim Director
hshea@msu.edu
Heather Shea will be serving as the interim director of the Gender and Sexuality Campus Center, while also serving MSU as the director of Women*s Student Services and affiliate faculty with the Student Affairs Administration MA program. As student affairs educator, Heather is committed to reflective and sustainable practice while preparing the next generation of educational leaders to lead from a place of equity and justice.
Heather's career in student affairs spans over two decades at five different campuses and involves experiences in many different functional areas including residence life, multicultural affairs, women, gender, student activities, leadership development, and commuter/non-traditional student services, and LGBTQIA2S+ programs—she identifies as a student affairs generalist. She also identifies as a feminist, mother, cisgender, pansexual, and (as evidenced by the picture and gray hair) GenX, white woman. 
Prior to coming to Michigan to pursue her PhD, Heather served as the director of the University of Idaho Women's Center. During her tenure, she and her colleagues founded the first LGBTQA Office at the University of Idaho—creating an essential resource and source of support for college students in a rural conservative state. Today, in her dual roles as director of WSS and interim director of GSCC, she is deeply committed to working together with all who value coalition building to create individual, structural, systemic, and organizational change to support LGBTQIA2S+ and women* students, faculty, and staff so all members of the community can learn, love, grow, and thrive.
Email Heather with questions about:
Socially just assessment methods
Support and advocacy for LGBTQA+ students
Gender and Sexuality Campus Center goals, mission, and focus
LGBTQA+ and women's center better practices and benchmarking in higher education
Working toward racial justice as a white person
Dasianay (Daisy) Ward
she/her/hers
Undergraduate Social Work Intern
warddasi@msu.edu
Dasianay (or Daisy) is a fourth-year student in the School of Social Work here at Michigan State University and is working as the undergraduate Social Work intern for the Gender and Sexuality Campus Center. She was born in Detroit, MI and grew up all around the metro Detroit area. Daisy is passionate about ensuring that queer people of color have access to proper mental health care, affordable housing, and community. In her free time, Daisy loves to watch horror movies (especially queer-coded ones) and reading queer books. Her favorite movies include Scream, Halloween, and The Rocky Horror Picture Show, while her book is Giovanni's Room by James Baldwin. Daisy is very excited to be interning in the Gender and Sexuality Campus Center and hopes to connect with more QTBIPOC during her time.
Gender and Sexuality Campus Center Liaisons
Ginny Blakely, LMSW
No Pronouns/just Ginny
Counseling and Psychiatric Services Liaison
blakelyv@msu.edu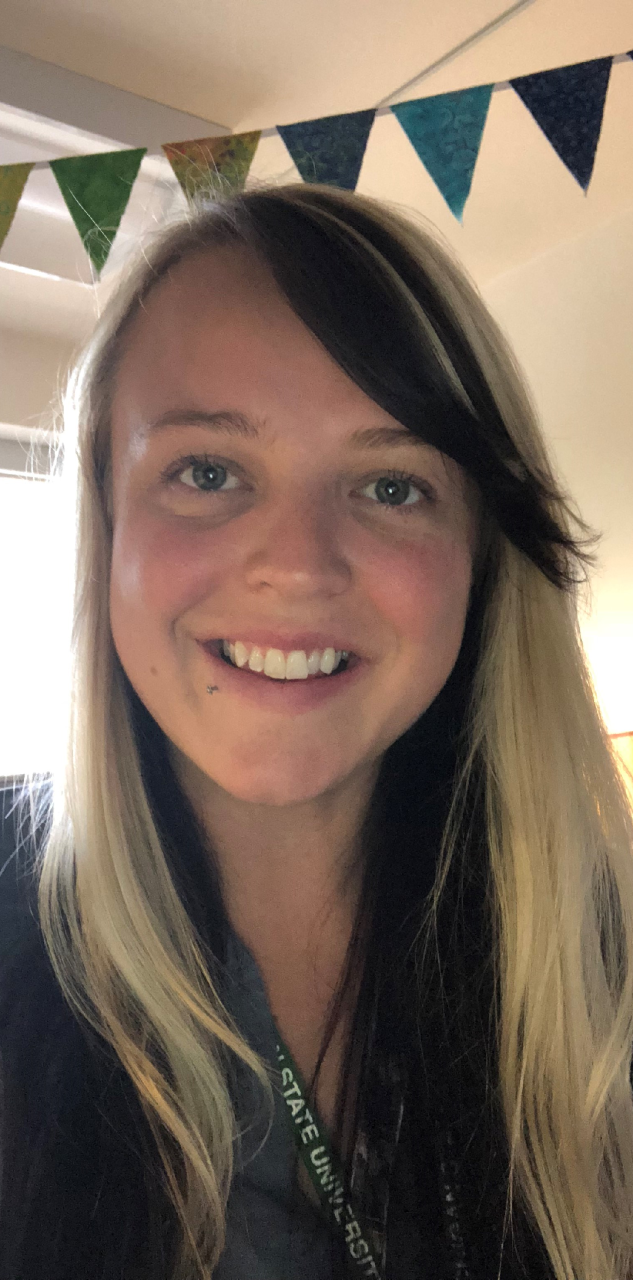 Ginny is originally from Michigan but has also lived, loved, and learned in California and Appalachia (SE Ohio). Ginny has been providing social work and therapy services at MSU since 2016. Ginny is an Americorps VISTA alumni, a Third-Wave Deadhead, and an Out, Proud, Unapologetic Queer. Ginny has prior experience with Appalachian Community Mental Health; Child, Adolescent and Family Therapy; Intensive Home-Based Services; Serving Homeless/Runaway/Throwaway LGBTQIA+ youth; and Post-Adoption and Attachment work. In addition to working at CAPS, Ginny enjoys exploring, activist and social justice work, being outside, Michigan's Great Lakes, and spending time with others. 

Email Ginny with questions about:

Identity development
Mental Health
Resources
Self-care
Sexual Orientation and Gender Identity (SOGI) Support Groups
General CAPS and Olin questions
Lara Hayden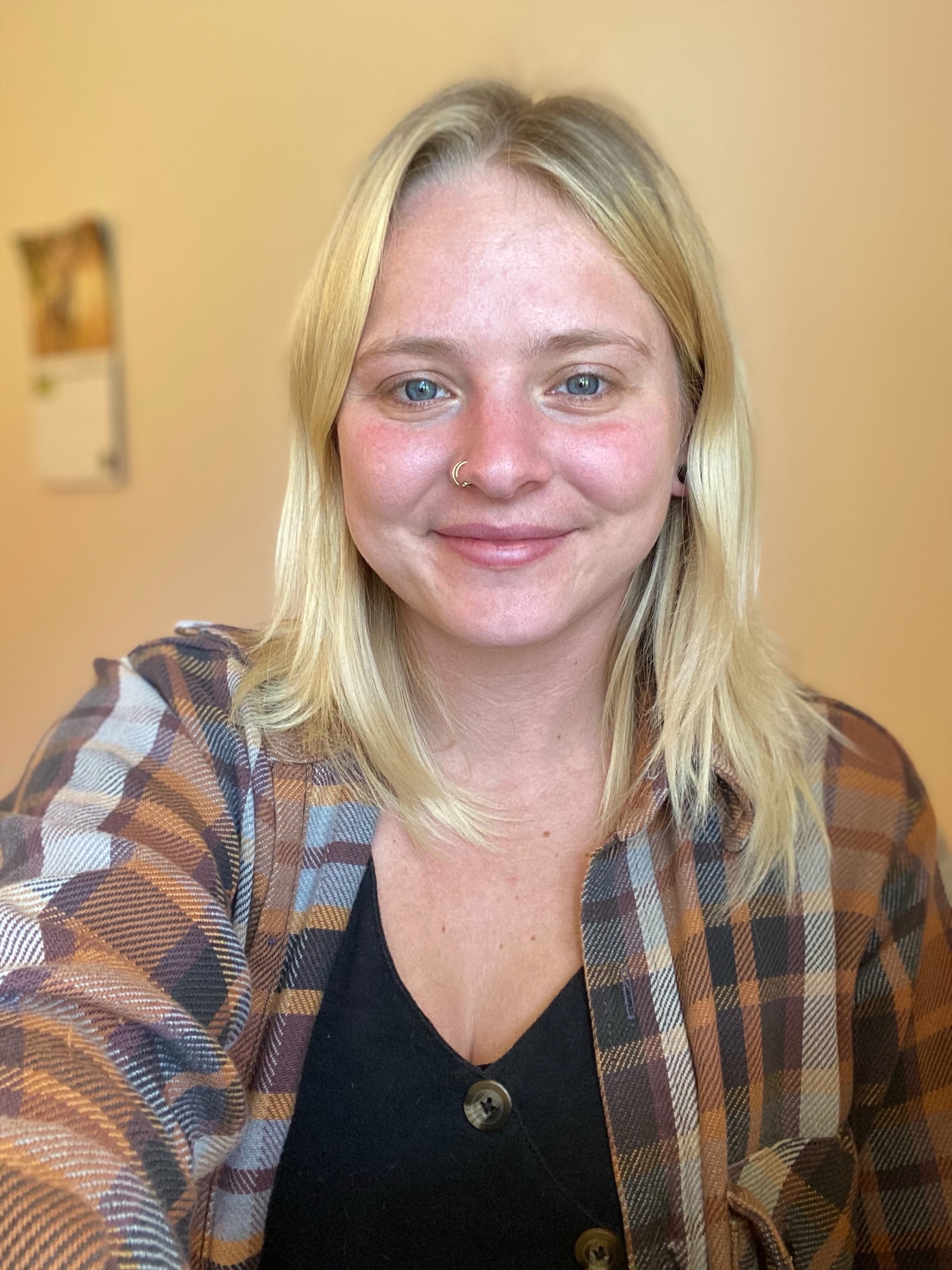 Lara works at MSU Safe Place, the relationship violence and stalking program here at Michigan State University. Lara is a MSU alum, who graduated from the social work program in 2019. During her time as an undergrad at MSU, they volunteered for programs like SACI, EVE, and were even the BSW intern at the GSCC during her final year. Lara got their Master of Social Work from University of Michigan in 2021. Lara returned to MSU in 2021 to serve in their current role at Safe Place. Lara is passionate about fighting for justice for survivors of gender-based violence using survivor-centered support, approaches, and wisdom. Lara loves advocating for LGBTQIA2S+ rights, and centering queer individuals and communities in conversations about gender-based violence in order to improve services available specifically for LGBTQIA2S+ folx.
In addition to working at MSU Safe Place, Lara loves spending time with their chiweenie, Tootsie, and two cats, Marty and Baby. Lara loves playing Animal Crossing, and rarely misses logging on to complete their silly little tasks. Lara loves camping, swimming and spending time connecting to nature.
Lara will be in-person at the GSCC Tuesdays from 11:30am-1:30pm to discuss topics surrounding relationship violence, stalking, and survivorship with students, staff and/or faculty interested in learning more. Lara will also be available for crisis intervention for survivors looking to connect to support and resources in a location they feel safe. Lastly, Lara's business card will be available at the GSCC for survivors looking to connect to support services who are educated and passionate about LGBTQIA2S+ survivors and their needs.
Email Lara with questions about:
Relationship Violence & Stalking
Gender-Based Violence
Interconnectedness of All Violence
Supporting Survivors
Resources for Survivors
Restorative and Transformative Justice
Mary Murdock
she/her/hers
Writing Center Liaison
Mary is a first-year MA student in Rhetoric and Writing, and a Community Engagement Coordinator and Writing Engagement Liaison for the MSU Writing Center. Originally from Maryland, Mary is new to the East Lansing area and always looking for new places to have a latte, listen to live music, or walk in nature. She is passionate about working with students to use their voices through writing and loves discussing pop culture, queer theory, books, and more with folks from all walks of life. As a writer, she composes in genres from academic research papers and marketing copy to poetry, music, creative nonfiction and more. 
Email Mary with ideas, questions, and desires about ways to connect with community through writing.