Queering Racial Justice Summit
About the Program
The Queering Racial Justice Summit (QRJS) is an immersive two-day experience for students of all racial identities to come together and explore the deep connections between racial justice and LGBTQA+ justice. We bring dynamic speakers and hold sessions led by trained student facilitators. Participants engage in the work of unlearning racism and building skills to create a more inclusive LGBTQA+ community at MSU. This amazing program was held in March of this year thanks to a generous grant from the Inclusion and Intercultural Initiatives Office (I3). The Queering Racial Justice Summit is a Signature Program of The Gender and Sexuality Campus Center and is led by our Assistant Director, Oprah Jrenal. Learn more about Spring 2021 program! Learn more about how you can help make the 2022 program a possibility!!
"movements like oak trees... intertwine their roots underground, making them incredibly resilient during storms. after katrina, oaks were still standing where nothing else was."
---
The 2022 Program
The next Queering Racial Justice Summit will be held in Spring 2022. We are committed to making this an annual program, and we need your help! 
To create this experience for our students in the coming academic year, we need to raise $20,000. Would you consider being a part of creating a more inclusive LGBTQA+ community? 
To donate to the Queering Racial Justice Summit, please visit our
MSU Giving Page
and select "Add to Cart" next to the name "Queering Racial Justice Summit."
---
How can YOU can make a difference?
You can make a difference--no matter how big or small! Give today!
A gift of $14 covers the cost of a meal for 1 participant. 
A gift of $42 covers all meals for 1 participant
A gift of $65 covers the cost of three meals, snacks, and an official QRJS t-shirt for 1 participant.
A gift of $125 covers the cost of QRJS supplies (nametags, pens, markers, notebooks, easal pads, etc...).
A gift of $150 covers the costs of paying 1 student facilator for their work on QRJS. 
A gift of $175 covers the cost of participant giveaways, including books on racial justice and LGBTQA+ identity, games, LGBTQA+ gear, and more! 
A gift of $200 covers all of our printing costs, including QRJS participant workbooks and event posters.
A gift of $2,500 covers all meals for all participants, student facilitators, and staff for the entirety of QRJS. 
A gift of $2,600 covers venue rental for 2 days of QRJS.
A gift of $6,000 covers the honorarium for one keynote speaker.
Any amount will make a difference. Please join us in creating a more inclusive LGBTQA+ community at MSU! 
"Life is very short and what we have to do must be done in the now."
---
What participants are saying
"The Queering Racial Justice Summit is the most powerful event I've attended at MSU. The students at the summit are incredible - they were amazing facilitators, brought their full hearts and mind to the work, and built a strong loving community with who knows how many miles between us. The LBGT RC staff did an absolutely incredible job... to bring this event to life. Thank you to everyone who was there - this was incredible."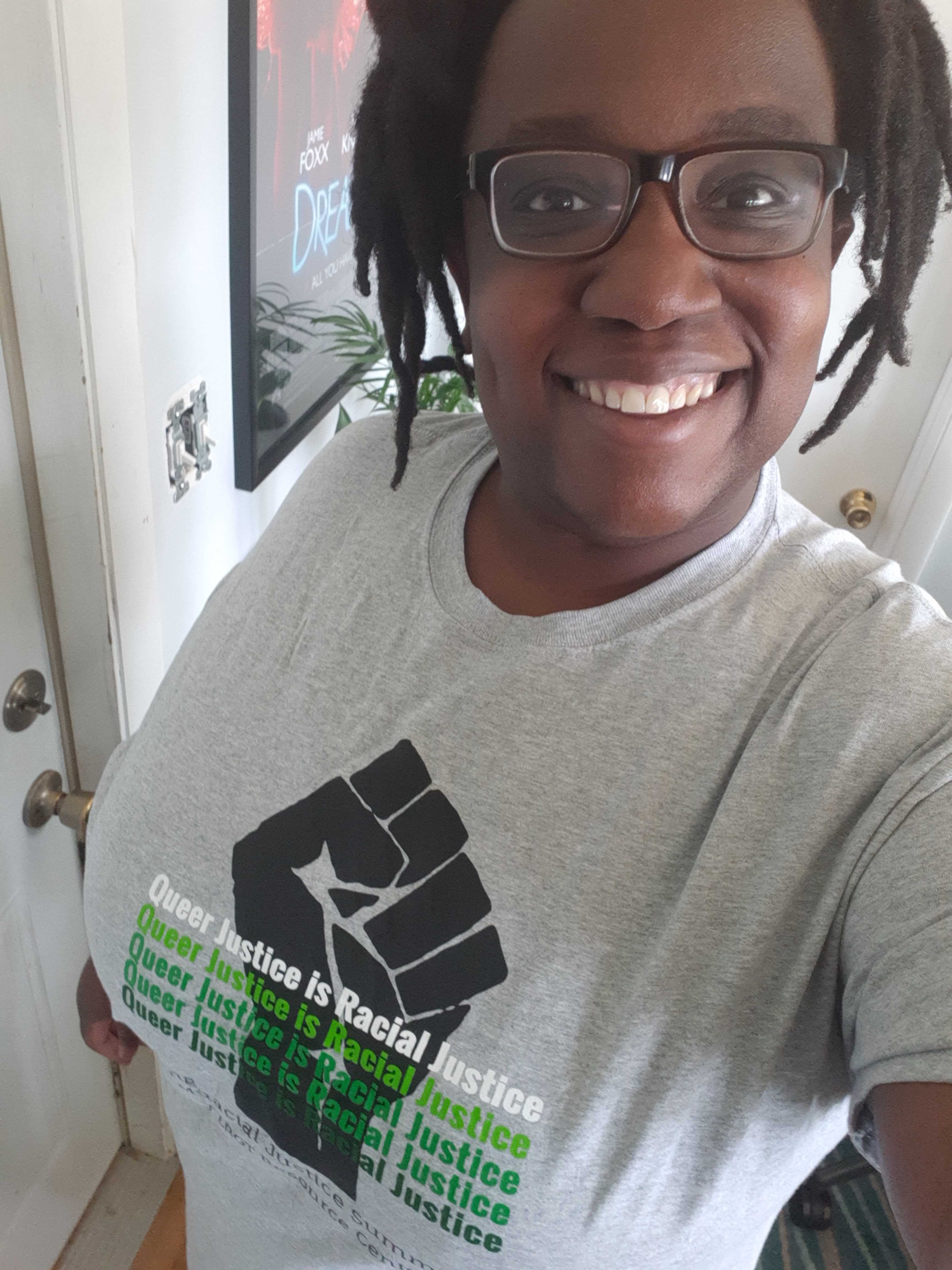 "This experience was educational, reflective, and affirming. I'm really happy that I dedicated the time to engage in these discussions with queer folks and allies. It gave me hope and reignited my passion for the work that I do."
"This summit reinvigorated and motivated me to get back involved in some form of advocacy and action toward promoting greater inclusivity for marginalized folks with intersecting identities - particularly Black and queer trans individuals"
"EVERYONE IN THIS EVENT WAS AMAZING! I am completely urging MSU to continue to give funding to peer facilitators and keep this event running because I can tell how much this emotionally impacted everyone involved; it was such a great space to grow and talk authentically" 
"I LOVE THE LGBT RC!"
---
Spring 2021 Program
The 2021 program was funded by the Creating Inclusive Excellence Grant through the Office for Inclusion and Intercultural Initiatives.
Schedule of Events:
Friday, March 12th 2021

1:00 PM-Event Begins

1:10 PM-Centering the Summit-Finding your Purpose Here

2:30 PM-Bulaong Ramiz- Keynote Address

4:05 PM-QTPOC Panel-You Get Stronger

5:30 PM-Thank yous and Review schedule

Saturday, March 13 2021

9:00 AM-Day Begins-Coffee with a Special Guest

9:50 AM-Cody Charles-Keynote Address

11:30 AM-Session Rotations

12:15 PM-Lunch

1:15 PM-White LGBTQA+ Panel-Anti-Racism in Mind and Action

2:50 PM-dr. becky martinez keynote

4:20 PM-Action Planning in Small groups

5:00 PM-Group Share

5:30 PM-Gratitude and Closing
Meet Our Keynotes 
Derek Hall (he/him) is a dynamic anti-racist inter-group dialogue facilitator, public speaker, and activist committed to challenging beliefs and institutional culture rooted in systemic racism and other forms of oppression. Derek has worked in the diversity, equity, and inclusion field for over ten years, partnering with public and private school systems, for profit and non-profit organizations both locally and nationally. His passion for decolonized education, human connection, and implementation of racial equity strategies has led him to presenting to crowds of 500+ as well as facilitating groups as small as 5-15.  Derek is proud to have served as a full time program director at re-center: race & equity in education from 2016 – 2019, where he helped the organization develop into the force for equitable systemic change that it is today. In 2019, Derek transitioned into his current role as racial equity consultant & coach where, believing that "changed people, change systems", he uses his gifts of facilitation, storytelling and community building to increase the racial & social consciousness of individuals and organizations.
Bulaong Ramiz (she/her) is an unapologetic black and puerto rican woman who is a dedicated friend, daughter, mother, wife, and educator. While she calls Hartford, CT home, she currently works, lives, and learns in Lawrence, KS. a graduate of Wesleyan University (B.A.) and Central Connecticut State University (M.S.), Bulaong has carried with her the complexities of her identity as a woman of color in every educative space she has entered and occupied. A current doctoral student at the University of Kansas, Bulaong's research explores the manifestations of white supremacy in higher education spaces and specifically in spaces intended to center people of color and other marginalized folks. Her career has focused on supporting students in college, specifically black, indigenous, people of color, womxn/femmes, lgbtq+, low-income, and first-generation students. As a mother, she has expanded her professional and personal work to include supporting student parents and families through her role as a director of a women's and gender equity center and birth doula. Bulaong has done countless workshops, panels, and keynotes for various communities in a multitude of contexts, always with the same goal of truthfully sharing her experience to empower others to do the same.
Cody Charles (he/they) is an engaging and passionate social justice educator and writer who believes in having the critical and often difficult conversations, in regards to leadership and social change. Cody believes practicing and staying committed to your own radical truth and radical self-reckoning is the start to making a meaningful contribution to this white supremacists society. We must be bold, courageous and intentional to strip away the delusion that white supremacy creates.
Cody Charles is the author of Black People! To Love Black Queer and Trans Folxs You Must Reckon with the Intimacy of the Violence you Commit, Black Joy, We Deserve It, The Night The Moonlight Caught My Eye: Not a Review but a Testimony on the Film Moonlight, The Higher Education Graduation Speech You Deserve,  and 24 Pieces of College Advice for Students of Marginalized Identities From People Who Have Been There. Join them for more conversation on Twitter (@_codykeith_) and Facebook (Follow Cody Charles). Please visit their blog, Reclaiming Anger, to learn more about them.
becky martinez (she/her) is a consultant and trainer with an emphasis on social justice, leadership and organizational development.  Her work focuses on engaging individuals and groups to recognize systemic dynamics of privilege and oppression to create more inclusive and equitable policies, practices, and structures. She works with diverse groups at the college level and with non-profit organizations, and government agencies. She is a faculty member with the Social Justice Training Institute, a Co-Lead Facilitator for LeaderShape, a board member with Class Action, a former certified trainer for the Anti-Defamation League and the Gay, Lesbian & Straight Education Network and counselor-advocate through Peace over Violence. becky recently co-authored a book titled Straddling Class in the Academy. As a first-generation college student raised in a working-class family, it was a deeply meaningful project to research and write about something so near to her soul.